Pump stations
Purpose

In practice, it is a frequent case, when wastewater shall be lifted to the collector's level, when draining from the building. Pump stations are used for this purpose. Glass-fibre bodies of pump stations are certified by the Public Institution SPCS and have the certificates, issued by this centre the hygiene protocol of non-food product, issued by the State Public Health Centre; they correspond to all construction requirements, are resistant to chemical impact and water-impermeable. Pump stations produced by Traidenis UAB are used for pumping over surface, domestic, industrial wastewater and sludge. The function of sewerage networks and pump station is to lift wastewater as quickly as possible to the place where it is processed, treated and decontaminated. Stagnated in networks and pump stations it mutates, decays, decomposes and inevitably leaves some pollutants and spreads to the environment.
About the product

Upon the request of clients, we can produce and deliver the body of pump station or fully assembled pump station with pumps, automatics and other accessories. Pumps are selected in respect of type, quantity, distance of pumping over, route diameter and height.  
Pump stations can be produced with a diameter of 0.8-4m and installed in a depth of 1.5m-10m. 
Wastewater pump stations are installed in a single body, thus reducing the costs of installation and time.
Elements of typical wastewater pump station
Installation
Green lawn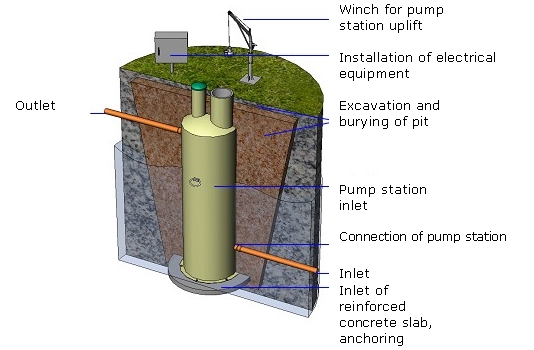 Roadway